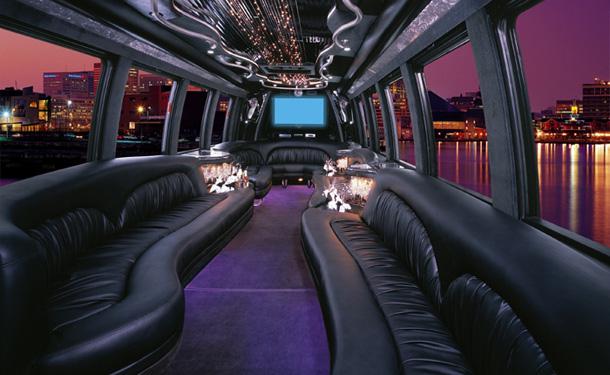 Traveling in a limousine isn't just about getting from one point to another. From the outside, it seems that limo is just another vehicle with an extended body. However, a look inside these cars will tell you that they offer much more than a spacious interior. The amenities fitted inside limos make sure that traveling experience of these vehicles is nothing short of first-class.
Wondering what it is exactly that makes limo rides extraordinary. These amazing limo features should be enough evidence.
Flat Screen LCD TV: TV screens hooked up in a luxury limousine? You better believe it! You can watch your favorite show or movie during the ride, which is ideal for long trips over an hour.
Fiber Optic Starlight Headliner: To emit a classy and sophisticated presence, the limo may have elegant lighting such as a fiber optic starlight headliner, which is located on the ceiling.
Beverage Bar: Anything in the limo's beverage bar is typically up for grabs. The beverage bar is stocked up with stemware, ice, bottled water and sometimes soda. Passengers are allowed to bring their liquor so that they can use the beverage bar to their advantage.
Moon Roof: Want to see a beautiful view of the city skyline or the starlit sky? Just open up the moon roof for a fresh breeze and take a peek at what's above.
Leather Seats: Passengers can sit back and revel in comfortable, spacious leather seats inside the limo. The love seat is perfect for couples who want to cuddle while friends can enjoy sitting in the long cushion seats.
Surround Sound System: Music is a must-have when traveling, and a limo ride is no exception. When you play music, the surround sound system allows everyone on the vehicle to be able to hear it loud and clear, no matter where they are sitting.
Limo amenities such as these lavish vehicle features are available in most luxury vehicles such as a Hummer, Excursion or Limobus. Booking a limo for your special occasion is the perfect way to celebrate, allowing you and guests to have the travel experience of a lifetime. It's the best way to show up to your destination in style – classy and glamorous!
Book your private limousine service by visiting Star Travel Limousines website. It is a private car transport service in Singapore and provides the highest quality service to its passengers at the best prices.